Skip to Main Content
It looks like you're using Internet Explorer 11 or older. This website works best with modern browsers such as the latest versions of Chrome, Firefox, Safari, and Edge. If you continue with this browser, you may see unexpected results.
Library Databases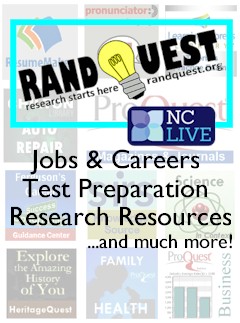 Research begins with Randquest - a collection of electronic resources for school, health, business and much more!
Ebooks, Audiobooks and EMagazines
Need Help?
For help online visit our Digital Media Help Center.
For one-on-one help, during regular library hours, call 336-318-6803 or bring your device to the Library Reference Desk.
Computer Classes